As Úrsula Corberó wrapped the final season of the global phenomenon La Casa de Papel, she was, to put it mildly, zapped. "It was exhausting", she says from Madrid, where she's currently filming a new project. "The characters were always feeling this anger and a lot of violence. Every time I arrived home after work, I felt evil—I wanted to hit somebody". But over a semi-choppy transatlantic Zoom feed, the 32-year-old actor is marked by a naturally sunny, chipper disposition, so to hear her describe the anguish brought on by inhabiting Tokyo, the long-suffering robber who serves as one of the protagonists of the Netflix thriller, is jarring.

After debuting in 2017, La Casa de Papel (known in the U.S. Money Heist), which follows a group of professional thieves, quickly became Netflix's biggest global hit, and it thrust the Barcelona-born Corberó —the daughter of a shopkeeper and a carpenter— into the international spotlight. As the series unspools part one of its fifth and final season this fall, Corberó has become a social media sensation, boasting more than 21 million Instagram followers while becoming a burgeoning fashion muse, fronting campaigns for the likes of Bulgari, Jacquemus, and Shiseido. "To be honest, everything happened so fast after the success of La Casa de Papel", she says. "We weren't expecting this at all, so I'm still trying to process it".

Corberó rode out the early stages of quarantine last year with her boyfriend in Buenos Aires (she spent 10 days during that time filming the music video for the Dua Lipa/J. Balvin/Bad Bunny/Tainy hit "Un Dia", which her boyfriend shot at their house). Now that the demands of shooting a television series are behind her, Corberó wants to embrace her newfound freedom. "My goal as a person and as an actress is to travel", she says. "I would love to work all around the world".

As she begins this new chapter, Corberó cites Penélope Cruz as someone whose career path she hopes to emulate. "She is my goddess", she says. Corberó made her English-language acting debut in last July's G.I. Joe spin-off Snake Eyes, in which she played the villainous Baroness, opposite Henry Golding. (She was offered the role without an audition, as one of the producers was a fan of her work in La Casa de Papel.) After learning English for Snake Eyes, Corberó now speaks it fluently. She explains that while confidence is key in learning a new language—"don't judge yourself", she advises— she can also be "very self-critical". She pauses, and then continues, "I'm always between the angel and the demon".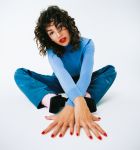 Source : interviewmagazine.com